Together Apart
For 18 years we have come together in Amsterdam to celebrate our passion for Blender, to share work and have a good time hanging out with old (and new!) friends. 2020 has changed things around, and we will too.
Historically, the Blender project takes place nearly entirely online. We have a very strong online presence and we're used to working together online and to meet remotely. That's the main reason why a full online version of the conference would not be a very good alternative.
However, we do consider doing something unique and special by the end of October! Here's the plan!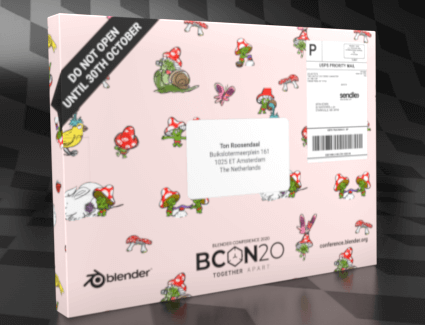 The BCON20 Comfort Box
A conference is not a real conference without the goodies! To give you a real "together apart" feeling, we will stuff a small box full of goodies: a conference t-shirt, stroopwafels, postcards, stickers, a special message from the Blender Foundation chairman and more!
Buy your comfort box!
Let's Meet: 2 min videos
Just like for a regular conference, you can submit a proposal for a presentation featuring:
Something personal
What happened to you in the past year? How did you experience the pandemic? Did you go through other life-changing events?
Something about your Blender work
Share with us what you did with Blender in the last year. This can be anything: animations, add-ons, tech-demos, showreels. Please keep the focus on content, not on product or service advertising.
If your proposal is accepted, instead of a full talk, we'd like you to record a 2 minutes (no more than 120 seconds). To keep things interesting, the video should feature you, your home or office (extra points for family or pet cameos) and a screen capture of your work.
More instructions will be shared later - the first step is to submit a proposal on the Blender Conference portal.
Submit a proposal