Astoria VR - Back to the 80ies with Blender 2.80!
Blender Conference Talk by blendFX
AstoriaVR is a virtual reality experience that takes you back to 1986, where you visit the famous nightclub of the Hotel Astoria in Leipzig, one of the few glamorous places in the former GDR. The hotel was a place of encounter between the East and the West, between businessmen and young women, regular Leipzigers and celebrities. Of course the secret police was always present as well, documenting and observing all events.
The AstoriaVR experience is a cooperation between Alina Cyranek, Falk Schuster and blendFX. The two filmmakers, who are also working on an animated documentary about the hotel, are providing us with source material, stories, snippets and the overall idea, and we are doing the modeling, rendering, programming and VR developement. In the app you can experience this very special mix of fancyness and luxury on the one hand and subtle threat and surveillance on the other hand.
The app is a combination of stereoscopic 360° renderings with interactive elements, overlays and stereoscopic footage of real people integrated into the environment.
In the talk we will describe some of our workflows and techniques, as well as how we used Blender 2.80 early on in the production and how we took advantage of the new collection system.
3D Artist
blendFX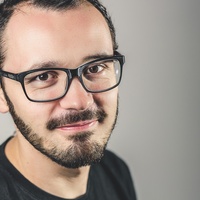 Developer
blendFX